Shopify Will Climb Up To $100 This Month
Shopify's impressive earnings sent the stock higher and, which is more important, SHOP keeps growing after the jump. Revenue almost doubled, gross profit grew up - everything seems to be just fine according to the company's P&L: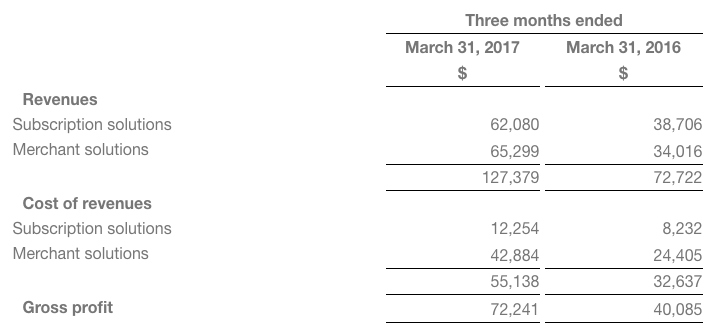 Their cash flow from operating activities is increasing, but it happens just because of stock-based compensation adjustments, in general the picture hasn't changed that much compared to the previous quarter. Net income margin increased from -12% to -9%, this is a promising step forward for the company, but it's still way below the breakeven level. 
GMV has increased by 81%, moreover the efficiency from growing GMV goes up: GMV / Merchant Solutions Revenue multiple goes up from 1.28% to 1.36%. And this is the most important metric to focus on, it shows how the management converts the their turnover into revenue. 
Net income margin goes up, GMV goes up, conversion rates go up, revenue goes up - the stock is simply poised to keep growing up to $100. Agree or Disagree?
Voting is over
Waiting for


the right answer